Newly renovated authentic French barn
Your getaway holiday home in France
4,8 ★ Airbnb rated superhost
Welcome at La maison des douves
A beautifully renovated barn, hosted by an English couple in the heart of the Deux-Sèvres. Translated, La maison des douves means "The Moat House" we are lucky enough to have an original moat, (which has deep water and no fences) stone archway and fireplaces which date from at least the 17th Century. There are a wealth of original features which have been taken into consideration during this sympathetic renovation.
You can enjoy the tranquillity of the large garden and courtyard area. This getaway is perfect for a family or two couples who want to experience authentic rural France in modern-day comfort. It is a perfect base for relaxing and taking a break at your own pace, or for something a little more energetic or adventurous. We'd love to welcome you soon.
Located in Vernoux-en-Gâtine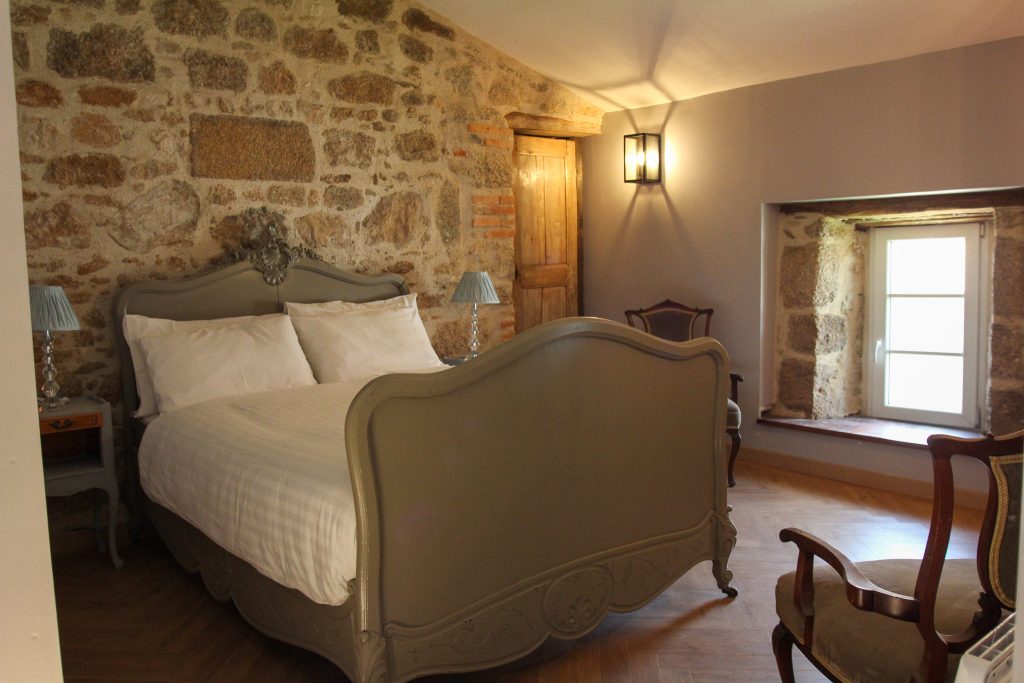 The accomodation
The two-bedroomed holiday house is an authentically renovated barn from which you can explore the beautiful department les Deux-Sèvres. Your accommodation has:
Two double bedrooms
WiFi
Secure Parking (electric charging available)
Fully equipped kitchen and luxurious bathroom
Quiet and secluded location surrounded by nature
Check our availability
Two bedroom house
From €93,00 per night
Check the availability of our two-bedroom house in the calendar below. Select your desired dates to see your price and click on the button "check availability" to request your stay on these dates. After receiving your request, we will come back to you with a conformation as soon as possible and email you with a link through which you can pay for your booking and finalize your reservation. We look forward to welcoming you soon!
Two double-bedroom holiday house in France
Enjoy France from our authentically renovated French house with two bedrooms. With a fully equipped kitchen, a newly renovated bathroom, a shared dining and living area and a beautiful garden, this house offers you everything you need for a relaxing and laid-back holiday. Add to that a beautiful location in Des Deux-Sevres with lots of places to discover and you will definitely enjoy staying at La maison des douves! Entering the house you'll have the large dining table on your left and the kitchen on the right. Walking through the kitchen to the back of the room, you'll find a seating area with two large yellow sofas where you can enjoy your company and have comfortable seating. Take the stairs to find yourself on a spacious landing with an extra couch that can be converted into a bed. Walking through the characteristic stone gateway you'll find a shower on your right with a luxury bathtub, a toilet, a double sink and a comfortable shower. Across the bathroom is the first bedroom located with a comfortable double bed. Walking back to the landing, the second bedroom is on your right and has a beautiful four-poster bed and a large closet.
Included in the two double-bedroom holiday home:
Two double bedrooms
An extra sofa that can be converted into a double bed
A bathroom with a bathtub and walk-in shower, double sink and toilet
Comfortable seating area downstairs with two large sofas
A completely equipped kitchen with everything you need to cook and bake
A large dining table located in front of the authentic fireplace
A second downstairs toilet
Outdoor seating area
Parking in front of the house
WIFI included
Arriving/leaving
Check-in time 3:00 pm
Check-out time 11:00 am
Only logged in customers who have purchased this product may leave a review.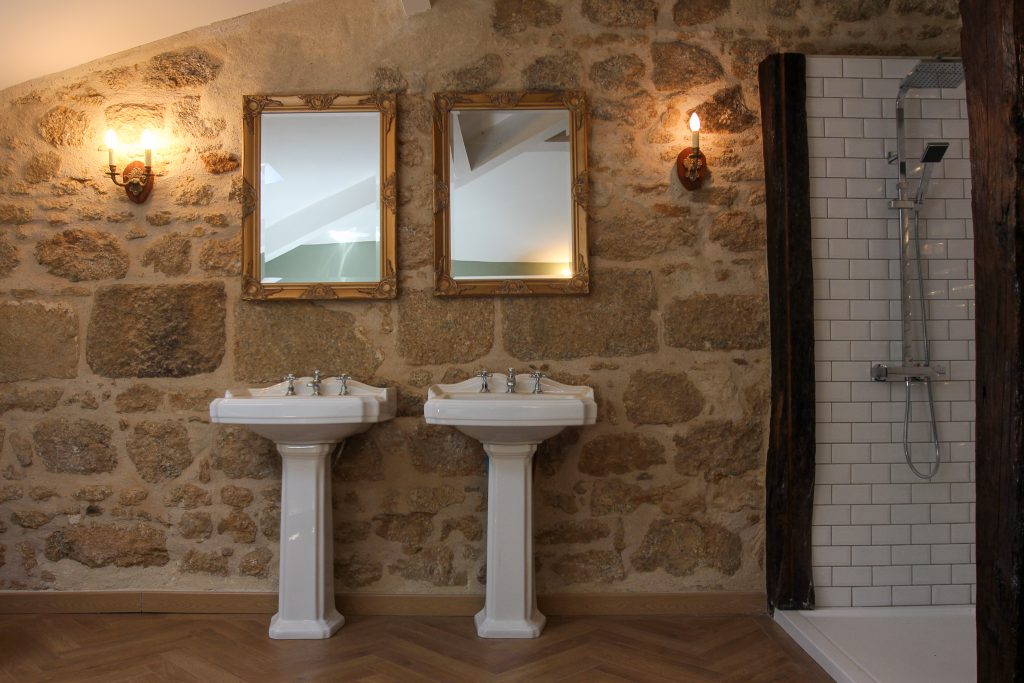 We are a 4,8 ★ rated superhost on Airbnb
Reviews by former guests on their stay:
"A lovely well equipped gite in a lovely area of France. David is an excellent host and made us very welcome and we were greeted with a log fire. We would thoroughly recommend the gite and hope to return for longer."

"We spend the xmas week and it was just ideal ! The house is beautifully renovated with great taste.:A lively combination between traditional and modern. David was a great host, responsive, very kind and helpful. On our check in the fire was already started and give a warm welcome in this house. Definitely worth it!"
"Very good welcome and great place we recommend the accommodation.
We were able to have a lovely time with friends. Thanks."
"David is welcoming. We felt very good about his place. A beautiful bathroom and overall qualitative services. David didn't hesitate to help me make a fire even a little late. Truly very kind. The place is warm and invites you to calm.."
"A very friendly welcome from David in his cottage. Very good communication beforehand to facilitate our arrival. The accommodation is very comfortable, spacious and tastefully furnished. We stayed only one night but would love to extend our stay.."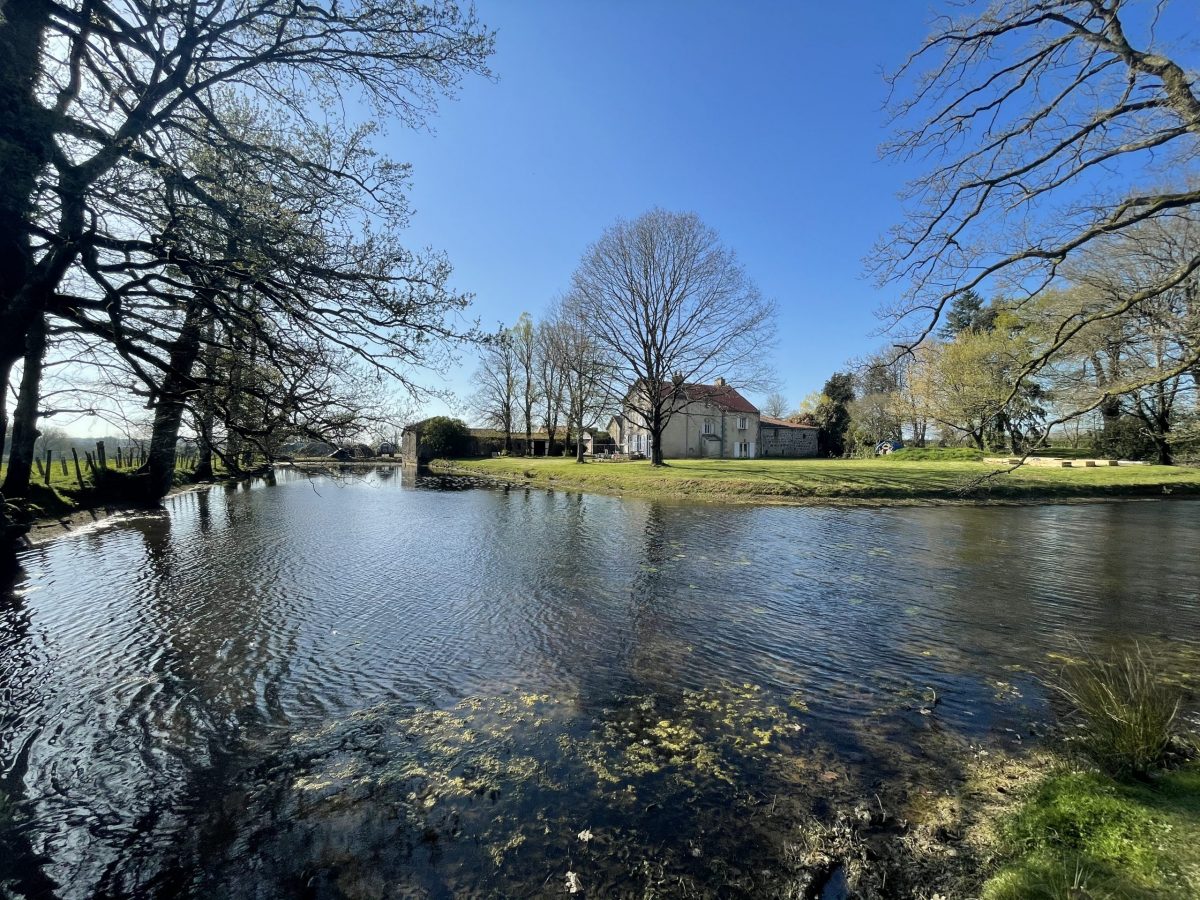 Discover les Deux-Sèvres
Discover les Deux-Sèvres and bits of our neighbouring departements such as the Vendée with our travel guide. It's filled with tips for sporty activities, restaurants, drinks and tourist sights all in the surroundings of our gîte.
Our favourites
The French departement les Deux-Sèvres is definitely worth a visit. Its capital Niort and the many medieval city centres such as Parthenays' will give you all the authentic French vibes you are looking for. Many tasty restaurants, beautiful nature and remarkable tourist sights will make your stay memorable. We love many places in the area, but here are our top three spots to visit while staying at La maison des douves: